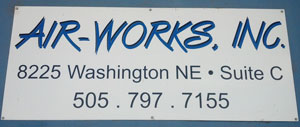 Air-Works Foam & Packaging
NEW MEXICO'S
LEADING FABRICATOR
& DISTRIBUTOR OF
POLYURETHANE AND
POLYETHYLENE FOAMS
Innovative Foam and Packaging Solutions
Air-Works is dedicated to providing the very best in service, quality and innovative manufacturing and packaging solutions. We are always conscious of our customer's need for consistent and superior quality products at a reasonable cost.
Air-Works produces interior packaging for Industrial and Manufacturing companies throughout New Mexico, West Texas, and Southern Colorado.
We carry, fabricate and manufacture:
Poly Urethane Foam
Poly Ethylene Foam
Planks
Poly Ethylene Foam Rolls
EPS Pads & Planks
Corrugated Foam Combinations
Convoluted Foam
Call us today: 505-797-7155  Fax: 505-797-7973
We put our customers first. We listen to you and help you find what you need. Come visit to see what we are all about:
Industry Leading Products
Quick Turnaround
Friendly and Approachable
And much, much more!